Description
50x 7W (=29W) Low Energy CFL
Power Saving Candle Light Bulbs
Eco Friendly, Amalgam Technology, Liquid Mercury Free
Small Edison Screw Cap (SES) [E14]
Warm White 2700K
Brand New
The bulbs are approximately 98mm high by 38mm wide
Energy saving lamps, also called compact fluorescents lamp (CFL) or low energy bulbs, saves energy by using the same technology as a fluorescent tube to generate equivalent light outputs to a conventional tungsten filament bulb but with a significantly lower power requirement. Due to the technology used they also offer huge increases in life expectancy over conventional lamps. The marked wattage of all energy saving lamps is much lower than the equivalent conventional bulb therefore costing less per hour.
These Energy Saving Lamps are Liquid Mercury Free
What is Amalgam?
Amalgam is an alloy of mercury combined with other metals. It is in a stable solid form under room temperature. It is a more eco-friendly and safer alternative to liquid mercury because mercury vapour would not be released until it reaches around 100°C under atmospheric pressure.
Why Amalgam is more Eco-friendly
At room temperature, the mercury inside the Amalgam is concealed inside the metal alloy and would not escape even if the lamp breaks. Amalgam will not pose health hazard to the people and pollute the environment. The use of Amalgam makes the lamp even easier and safer to handle on disposal. Moreover, it would not lead to land and water contamination even if the lamps were not properly recycled.
These Energy Saving Lamps contain Less Mercury
Technological advancements have enabled modern compact fluorescent lamps to deliver excellent illumination performance with Amalgam at minimal mercury levels (1.5mg).
It is far below the 5mg limit set by the EU environmental regulation.
This is far less mercury than in other items in the house, e.g. batteries (5-25 mg), thermometers (500 mg), etc.
Moreover, research has revealed that compact fluorescent lamps actually work to minimize mercury from being released into the air by power plants, where it affects our health the most. According to the statistics provided by the US Environmental Protection Agency, the highest source of mercury in our air comes from burning fossil fuels, such as coal. 70% of power plants are coal fired and hence burn fossil fuel to produce energy. These power plants in general emit 10mg of mercury to produce the electricity to run an incandescent bulb compared to only 2.4mg of mercury required to run a compact fluorescent lamp for the same time. In other words, compact fluorescent lamps are responsible for less mercury than incandescent bulbs.
Mercury in Amalgam can be Recycled and Reused
In its solid form, the mercury inside Amalgam can be collected, recycled and reused more readily. Since Amalgam will not release mercury vapour when it is exposed under room temperature, it will not pose health hazard to the people and pollute the environment.
'A'
rated Energy
efficient Bulbs
10,000 hours Life Span.
Please visit our eBay shop for other Wattages or bulb shapes and different type end-caps;
Price is inclusive of VAT (invoice supplied with goods).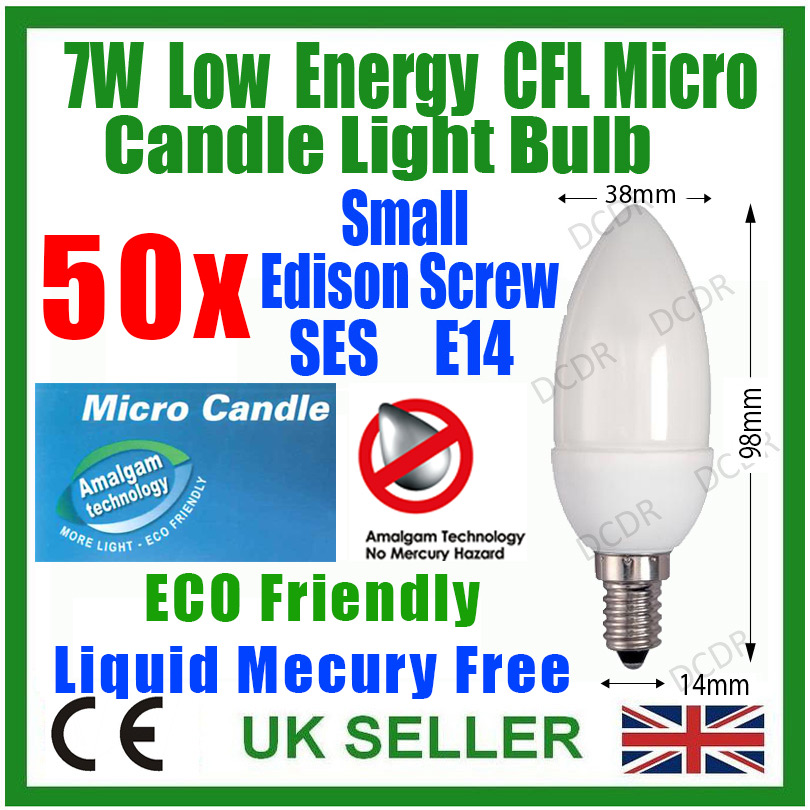 ---
On 06-Jun-11 at 02:16:24 BST, seller added the following information: