Description
T5 6W UV Blacklight 212mm Mini Tube,
Counterfeit Money & Security Marker Detector Replacement Light Bulb.

2 Pin T5 fitting UV Blacklight.

Brand New

The bulbs are approximately 212mm (225mm with pins, 9″) by 16mm wide.

These bulbs emit UV and are intended for use in counterfeit note detectors.

The UV light is for authentication, e.g. security markings on currency & credit cards, certificates of authenticity on software packaging, as well as special inks used by security marking pens; non-destructive testing of materials and reading of otherwise illegible papyri and ancient manuscripts; analysing minerals and gems, and other detective work including authentication of various collectibles – materials may look the same under visible light, but fluoresce to different degrees under ultraviolet light.

In forensics black lights are required to observe fluorescence of substances and are used as an investigative tool at crime scene to locate and identifying body fluids and changes brought on by decomposition.

Price is VAT inclusive – VAT invoice dispatched with goods.

In stock now, fast delivery.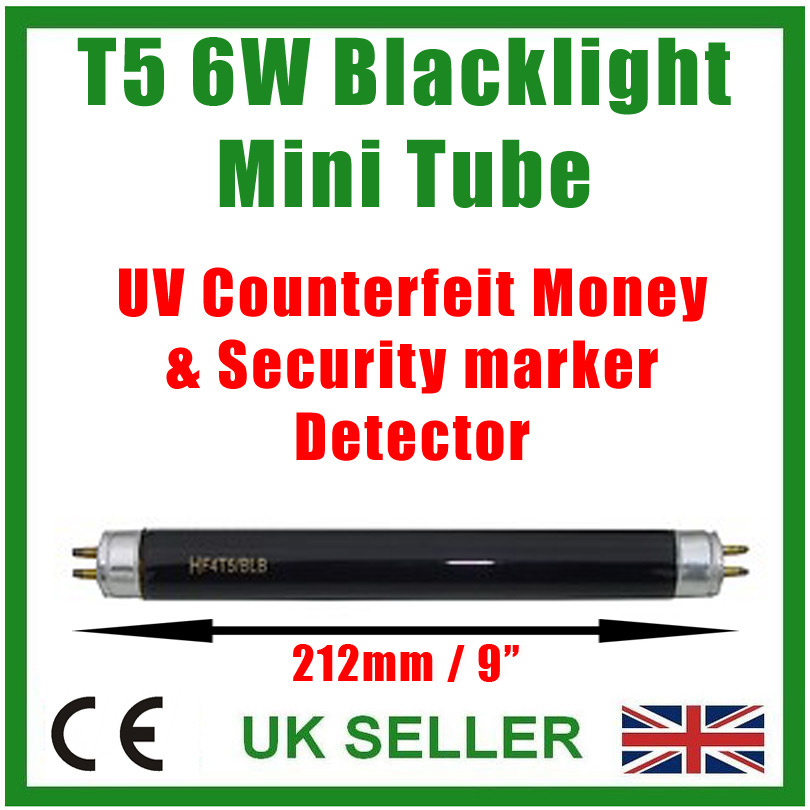 On 06-Jun-11 at 02:16:27 BST, seller added the following information: